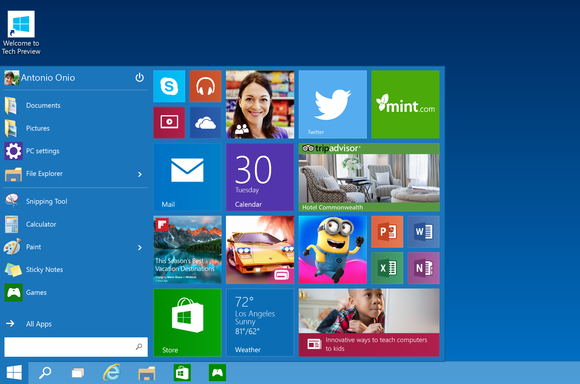 All eyes are on Microsoft next year, in 2011 the team screwed up by offering a mobile-like experience to Windows customers with Windows 8, alongside pricing it rather highly, compared to Apple who decided to drop the price of OS X and make it free to all desktop users on the platform.

It looks like Microsoft will take a note from Apple's book and make Windows 10 (also Windows 9) free for all consumers. Notice the last bit? Yep, Microsoft will still offer paid features and upgrades for enterprise, the one market they can count on.

Enterprise has been stuck in this time-lapse where Windows XP is still acceptable, but throughout the past half decade, we have seen a steady move to the new age-old option: Windows 7, which will probably last longer than Windows XP if Microsoft doesn't hit a home-run with Windows 10.

Microsoft will make the initial upgrade to Windows 10 free for enterprise, but offer paid privileges like only having to update annually, better admin controls, more enterprise level help on basic functionality – allowing a company to install the system without having issues.

It is about time Microsoft dropped the price for Windows, especially when they offer Windows Phone – their mobile product which will become Windows 10 in 2015 – for free to smartphone users.

Microsoft will talk more about Windows 10 at BUILD in April next year. Until then, we will get to see the latest updates via the Technical Preview, launched last month by Microsoft.

If you love Windows and just can't wait for the final public release of Windows 10 then don't worry Windows 10 Technical Preview is here and available to download and install at your leisure. Microsoft made the OS available for download recently and it's available free of charge.
If you want to get up close and personal with the latest version of Windows then you have a couple options. First up, if you have an old PC that isn't doing very much then you could install Windows 10 from a flash drive. That may not be the best solution. We think it would be better to run the new OS inside a "sandbox," a virtual machine. This way it won't affect your system in any way and it'll be more convenient than rummaging around for that old PC.
System requirements
Basically, if your PC can run Windows 8.1, you're good to go. If you're not sure, don't worry—Windows will check your system to make sure it can install the preview.
Processor: 1 gigahertz (GHz) or faster
RAM: 1 gigabyte (GB) (32-bit) or 2 GB (64-bit)
Free hard disk space: 16 GB
Graphics card: Microsoft DirectX 9 graphics device with WDDM driver
A Microsoft account and Internet access
Important notes
Some PC processors and hardware configurations aren't supported by Technical Preview.
To access the Windows Store and to download and run apps, you need an Internet connection, a screen resolution of at least 1024 x 768, and a Microsoft account.
After you install the preview, you won't be able to play DVDs using Windows Media Player.
If you have Windows 8 Pro with Media Center and you install the preview, Windows Media Center will be removed.
The preview won't work on Windows RT 8.1 and Windows N editions.
The preview is not available for Windows Phone.
A small number of older, 64-bit CPUs might be blocked from installing the preview.
If you're running Windows 7 without SP1, you can only upgrade to the preview by downloading an ISO file. If you install Windows 7 SP1, you can upgrade to the preview by using Windows Update or by downloading an ISO file.
Download Windows Technical Preview
Follow these steps to download Technical Preview:
Sign up for the Windows Insider Program, if you haven't already.
Read the system requirements.
Click one of the Download links on this page to download a special file—it's called an ISO file—that you can use to install the preview.
When the download is complete, transfer the ISO file to installation media such as a USB flash drive or DVD.
Boot your PC from the installation media, and then follow the steps to perform a clean install.
Important.
You'll need a third-party program to convert the ISO file into installable media—DVD burning software often includes this capability.
Remember, trying out an early build like this can be risky. That's why we recommend that you don't install the preview on your primary home or business PC. Unexpected PC crashes could damage or even delete your files, so you should back up everything.
If you want to stop using Windows Technical Preview and return to your previous version of Windows, you'll need to reinstall your previous version from the recovery or installation media that came with your PC—typically a DVD. If you don't have recovery media, you might be able to create recovery media from a recovery partition on your PC using software provided by your PC manufacturer. You'll need to do this before you upgrade. Check the support section of your PC manufacturer's website for more info.
After you install Windows Technical Preview, you won't be able to use the recovery partition on your PC to go back to your previous version of Windows.
Official Site Windows 10 Technical Preview download link :
Download links
Product key: NKJFK-GPHP7-G8C3J-P6JXR-HQRJR
| Language | Link to download | SHA-1 hash value |
| --- | --- | --- |
| English (United States) 64-bit (x64) | | EB75A3D3C0F621F175B75DC65DB036D0E00EAC43 |
| English (United States) 32-bit (x86) | | 73AC23AD89489855F33CA224F196327740057E2E |
| English (United Kingdom) 64-bit (x64) | | 17C6CD7224D13DB61B93A4A9D38202E3A0019378 |
| English (United Kingdom) 32-bit (x86) | | BFF496678A09255738BFBFA14903295D55478C33 |
| Chinese (Simplified) 64-bit (x64) | | 135E3193571C5AF9FBF36D24D07B2BE7EE49B2E8 |
| Chinese (Simplified) 32-bit (x86) | | 3EE3A2033BE666BA55AFED3FCF6BB52A7C15C7CC |
| Portuguese (Brazil) 64-bit (x64) | | 3DA91BB9EA7316F670C0A132D940FC1D58BAB296 |
| Portuguese (Brazil) 32-bit (x86) | | 611FE8F94906EFE75F64D197913344AC040DF644 |
Windows 10 Technical Preview enterprise edition.
Quick guide to install Windows 10 Technical Preview
To install Windows 10 Technical preview doesn't take too long, the whole process takes approximately 30 (depending on the speed of your PC). This is a quick guide on how to install what you need in a few steps:
Start off by navigating Microsoft's website and download the Windows 10 Technical Preview ISO file. Just simply click through the "Get Started" and "Join Now" screens, then scroll down and choose the appropriate language and version (32- or 64-bit).
Download and install Oracle VM VirtualBox, the free virtualization tool which is going to make it possible for you to run Windows 10 inside Windows.
Run VirtualBox, then click the New icon. In the Create Virtual Machine dialog box, type 'Windows 10,' then click the version selector and choose Windows 8.1 You must ensure that you match the ISO to what you downloaded, either 32 or 64 bit, to what version is listed for 8.1.
VirtualBox will provide you with a recommended memory size; accept unless you have a specific reason for changing it. Then select 'Create a virtual hard drive' and click Create. Accept VDI as the file type for the drive and then choose Fixed Size for the virtual drive. Finally, click Create and wait while VirtualBox constructs your virtual drive.
When the drive is ready, click the Start button in the VirtualBox toolbar. You'll see a box telling you to 'Select start-up disk.' Just Click the file folder next to the pull-down and navigate to the Windows 10 ISO file you downloaded in the first step and click Start.
Now just install Windows as normal, but make sure to choose the 'Custom: Install Windows only (advanced)' option when asked. As usual, the setup process may involve a few reboots, though only within the confines of the VM.
Voila! Now you should have a version of Windows 10 running inside a safe and sandboxed window. Please note although the installation appears to have completed, you will have to reboot the system manually once more. After that, you are good to go for as long as you have the preview trial.
Technical Preview expires on April 15, 2015
If you're running Technical Preview, we'll send you notifications beginning on April 1, 2015 to remind you that it's time to upgrade your PC to a newer version.
Oracle VM VirtualBox
download link :

Source :
http://news.filehippo.com/
http://windows.microsoft.com/