The discovery of security holes "heartbleed" the OpenSSL protocol makes tantrum internet universe. Because the bug that lets hackers steal sensitive data like passwords and this-PIN numbers, despite attacking the bulk-encrypted web sites around the world.
Ditemukannya celah keamanan "heartbleed" pada protokol OpenSSL membuat geger jagat internet. Pasalnya, bug yang memungkinkan hacker mencuri data sensitif ini—seperti password dan nomor PIN, meski sudah dienkripsi—menyerang sebagaian besar situs web di seluruh dunia.
Impact "heartbleed" was spread to the realm of gadgets, which in this case Google warned that the Android operating system is used in 34 percent 4.1.x devices based on the platform.
Dampak "heartbleed" pun menyebar luas hingga ke ranah gadget, yang dalam hal ini Google mengingatkan bahwa sistem operasi Android 4.1.x dipakai di 34 persen perangkat berbasis platform tersebut.
That is, there are millions of Android gadgets are prone to hacker attacks because of suffering from a bug "heartbleed". In addition, Marc Rogers. chief analyst at security firm Lookout Mobile, said that some version of Android 4.2.2 which has been modified by Google partners have also been found to have contracted a similar problem.
Artinya, ada jutaan gadget Android yang rawan serangan hacker karena mengidap bug "heartbleed". Selain itu, Marc Rogers. kepala analis di firma keamanan Lookout Mobile, mengatakan bahwa beberapa versi Android 4.2.2 yang telah dimodifikasi oleh rekanan Google juga telah ditemukan terjangkit masalah serupa.
"I would be careful using the device (which affected 'heartbleed'), such as when using it for banking activity or to send a personal message," said Rogers, as quoted by ArsTechnica.
"Saya akan berhati-hati menggunakan perangkat (yang terdampak 'heartbleed') tersebut, seperti saat menggunakannya untuk aktivitas perbankan atau mengirim pesan pribadi," ujar Rogers, sebagaimana dikutip oleh ArsTechnica.
The Android operating system itself is often modified by the manufacturer or mobile operator partners gadget Google for each. Therefore, it is likely that several other variants that use Android in version 4.1.1 and 4.2.2 outside too problematic.
Sistem operasi Android sendiri kerap kali dimodifikasi oleh para produsen gadget atau operator seluler rekanan Google untuk keperluan masing-masing. Karena itu, ada kemungkinan bahwa beberapa varian lain yang menggunakan Android di luar versi 4.1.1 dan 4.2.2 pun ikut bermasalah.
Google said it is working with its partners to deliver security patches to ward off "heartbleed". While waiting, Lookout Mobile has released an application called Heartbleed Detector can detect whether Android devices infected "heartbleed" or not.
Google mengatakan sedang bekerja bersama para rekanan untuk menyalurkan patch keamanan guna menangkal "heartbleed". Selagi menunggu, Lookout Mobile telah merilis aplikasi bernama Heartbleed Detector yang bisa mendeteksi apakah perangkat Android terjangkit "heartbleed" atau tidak.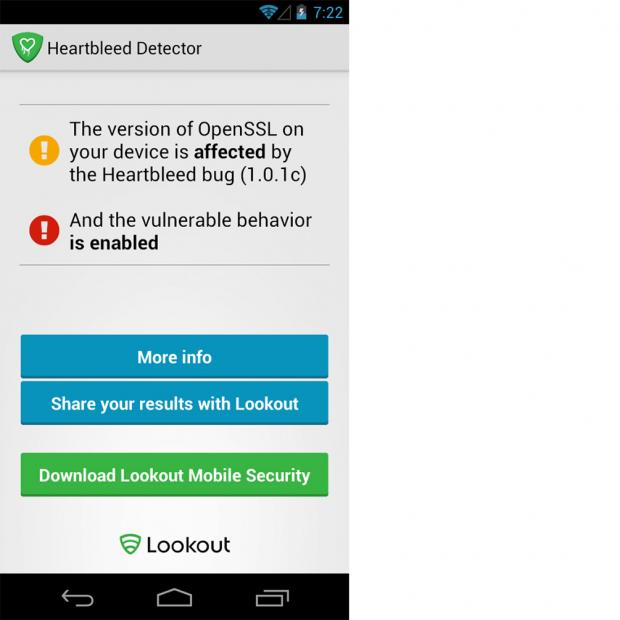 Application Detector from Lookout Mobile Heartbleed detecting security holes on Android devices.
Aplikasi Heartbleed Detector dari Lookout Mobile mendeteksi celah keamanan pada perangkat Android.
According to tests conducted by Heartbleed Detector ArsTechnica, many versions of Android taking the OpenSSL version is problematic. However, most do not contain code to enable it so that it can not be said to be affected by "heartbleed".
Menurut pengujian dengan Heartbleed Detector yang dilakukan ArsTechnica, banyak versi Android memakai versi OpenSSL yang bermasalah. Namun, sebagian besar tak mengaktifkan ekstensi yang mengandung kode itu sehingga dapat dikatakan tidak terkena dampak "heartbleed".
Another case with Android version 4.1.1 contains a bug related to the availability and activate it, as seen in the screenshot above.
Lain halnya dengan perangkat Android versi 4.1.1 yang kedapatan mengandung bug bersangkutan dan mengaktifkannya, seperti terlihat dalam screenshot di atas.
To check if your Android gadget infected "heartbleed", download an application from the Detector Heartbleed Play Store or directly from this link. Then, install and run the application. Well, if you are infected Android "heartbleed"?
Untuk memeriksa apakah gadget Android Anda terjangkit "heartbleed", unduh aplikasi Heartbleed Detector dari Play Store atau langsung dari tautan ini. Kemudian, instal dan jalankan aplikasinya. Nah, apakah Android Anda terjangkit "heartbleed"?
Author : Oik Yusuf
Editor: Reza Wahyudi
Source: ArsTechnica, quoted from http://tekno.kompas.com/, Thursday, April 17, 2014, 10:23 pm.