Edward Snowden to stir the whole world by leaking secret documents belonging to the National Security Agency (NSA). The U.S. intelligence agency known experts tapped, then how Snowden obtain information without being tracked?
Edward Snowden membuat heboh seisi dunia dengan membocorkan dokumen-dokumen rahasia milik National Security Agency (NSA). Dinas intelejen AS tersebut dikenal ahli menyadap, lantas bagaimana Snowden memperoleh informasi tanpa terlacak?
Former NSA contractor was apparently using a special version of the Linux operating system named Tails. This OS is an open source software that is optimized anonymous developer-made to disguise its identity in the online world.
Mantan kontraktor NSA itu rupanya menggunakan sistem operasi Linux versi khusus bernama Tails. OS ini merupakan software open source bikinan developer anonim yang dioptimalkan untuk menyamarkan identitas penggunanya di dunia online.
In it, as described by Wired, there are a number of encryption and privacy-related tools, including Tor, an application that scrambles the user's Internet traffic by performing routing through a computer network of volunteers around the world.
Di dalamnya, sebagaimana diterangkan oleh Wired, terdapat sejumlah alat terkait enkripsi dan privasi, termasuk Tor, sebuah aplikasi yang mengacak lalu lintas internet pengguna dengan melakukan routing melalui jaringan komputer sukarelawan di seluruh dunia.
Tails can be contained entirely within the external media such as DVD and USB which can be used to boot the computer. Tails does not store data locally, and immune to spy program. Computers used did not leave a trail when examined in the future.
Tails bisa dimuat sepenuhnya dalam media eksternal seperti DVD dan USB yang dapat digunakan untuk melakukan booting komputer. Tails tidak menyimpan data secara lokal, dan kebal terhadap program mata-mata. Komputer yang dipakai pun tak meninggalkan jejak apabila dikemudian hari diperiksa.
Through the operating system that is anti-tapping, Snowden communicate with the media and leaking secret documents that the NSA is in his hands.
Melalui sistem operasi anti-sadap itulah, Snowden berkomunikasi dengan media dan membocorkan dokumen-dokumen rahasia NSA yang berada di tangannya.
However, Tails also has drawbacks. Although relatively "safe" with open source code that can be operated by anyone, some Internet service providers do not support the function confidentiality. If one choose the provider, Tails will become useless.
Namun, Tails juga memiliki kelemahan. Meski relatif "aman" dengan kode open source yang bisa dibedah oleh siapapun, beberapa penyedia jasa internet tak mendukung fungsi kerahasiaannya. Apabila salah memilih provider, Tails akan menjadi tidak berguna.
Tor software used by activists to drug dealers.
Software Tor digunakan oleh para
aktivis sampai bandar narkoba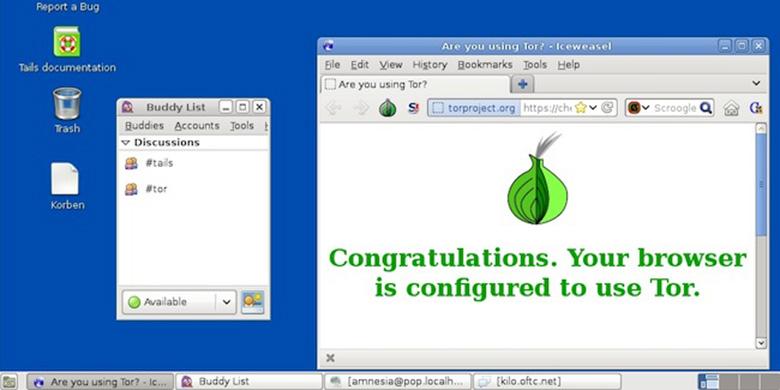 Tor software that is part of the Tails which was originally developed by the U.S. Naval Research Laboratory. This program is used by busy people who by some reason do not want to be identified on the Internet, ranging from activists, whistle-like Snowden, to online drug dealers in the black market kind of Silk Road.
Software Tor yang merupakan bagian dari Tails yang pada awalnya dikembangkan oleh Laboratorium Riset Angkatan Laut AS. Program ini ramai digunakan oleh orang-orang yang oleh sebab tertentu tak ingin diketahui identitasnya di internet, mulai dari aktivis, pembocor seperti Snowden, hingga bandar narkoba online di pasar gelap macam Silk Road.
Tails makes use Tor so much easier. Users simply booting the system to Tails, and will automatically run Tor without needing any setting. Finished using, the computer can restart the system to daily operations. No one will know what the user during wear Tails.
Tails membuat pemakaian Tor jadi lebih mudah. Pengguna cukup melakukan booting ke sistem Tails, dan Tor akan otomatis berjalan tanpa perlu pengaturan apapun. Selesai menggunakan, komputer bisa di-restart ke sistem operasi sehari-hari. Tak akan ada yang tahu apa yang dilakukan pengguna selama memakai Tails.
Tails developers themselves would rather hide behind the shadows of secrecy and chose to remain anonymous. One of the reasons they make Tails is protecting the privacy of Internet users sniff some parties conducted secretly.
Para pengembang Tails sendiri lebih suka bersembunyi di balik bayang-bayang kerahasiaan dan memilih untuk tetap anonim. Salah satu alasan mereka membuat Tails adalah melindungi privasi pengguna internet dari endusan sejumlah pihak yang dilakukan diam-diam.
"Marketing giants like Google, Facebook Yahoo, and spy services online life we ​​really want to become more transparent to their own kepetintingan," wrote a member of the Tails developers are not to be identified in an e-mail to Wired.
"Raksasa-raksasa marketing seperti Google, Facebook Yahoo, dan dinas mata-mata sangat ingin kehidupan online kita menjadi lebih transparan untuk kepetintingan mereka sendiri," tulis seorang anggota pengembang Tails yang tidak menyebutkan identitasnya dalam e-mail kepada Wired.
Tails open nature allows everyone to examine the operating system to prevent things that are not desirable. Tails is too small possibility "trap" of the government because Snowden document mentions that the NSA was not happy with this operating system.
Sifat Tails yang terbuka memungkinkan semua orang menelaah sistem operasi ini untuk mencegah adanya hal-hal yang tidak diinginkan. Kecil pula kemungkinan Tails merupakan "jebakan" dari pihak pemerintah karena dokumen Snowden menyebutkan bahwa NSA pun tidak suka dengan sistem operasi ini.
In addition to developing the operating system for desktop and laptop computers, Tails developers are making a mobile version that can run on Android and Ubuntu.
Di samping mengembangkan sistem operasi tersebut untuk komputer desktop dan laptop, para developer Tails sedang membuat versi mobile yang bisa berjalan di perangkat Android dan Ubuntu.
You are interested in using the operating system used Edward Snowden?
download at the following link:
Sistem Operasi Linux Tails 0.23, update : March 19, 2014
Anda berminat menggunakan sistim operasi yang digunakan
Edward Snowden ?
download di link berikut :
Software Tor download di link :
Editor: Aditya Panji
Sources: Wired, cited from: http://tekno.kompas.com/, Sunday, April 20 2014, 20:08 hrs, with additions and changes.